Our mission is to show every guest a day in the life of a Colorado Jeeper.
We want you to learn not only how to drive, but how to do everything else too – right and responsibly.
Everyday we will do our part to teach, learn, and protect our gift of open space. So we can wheel with our kids, and our kids' kids.
Our tours
Park your regular ride and grab the keys to one of our awesome custom built Jeeps.
We will make sure you are comfortable and ready to drive with a quick drivers' meeting and Jeep orientation. Then we are off to the nearby trailhead, leaving everyone else behind.
Our tours are customized to give you what you want – amazing scenery, heart pumping edge-of-the-mountain action, family adventure, or amazing photo sessions.
Or maybe all of the above! Along the way you will learn the history of the area, many new driving skills and good backcountry habits.
Native Jeeps began offering custom Jeep tour adventures on the picturesque mountain roads outside Denver, in Clear Creek County, Colorado in 2019. Added in 2023 is our new Vail location!
We are the only permitted You-Drive Jeep tour company with operations in Clear Creek and Eagle County! As such, we offer a truly unique set of expedition tours on breathtaking trails no one else will show you.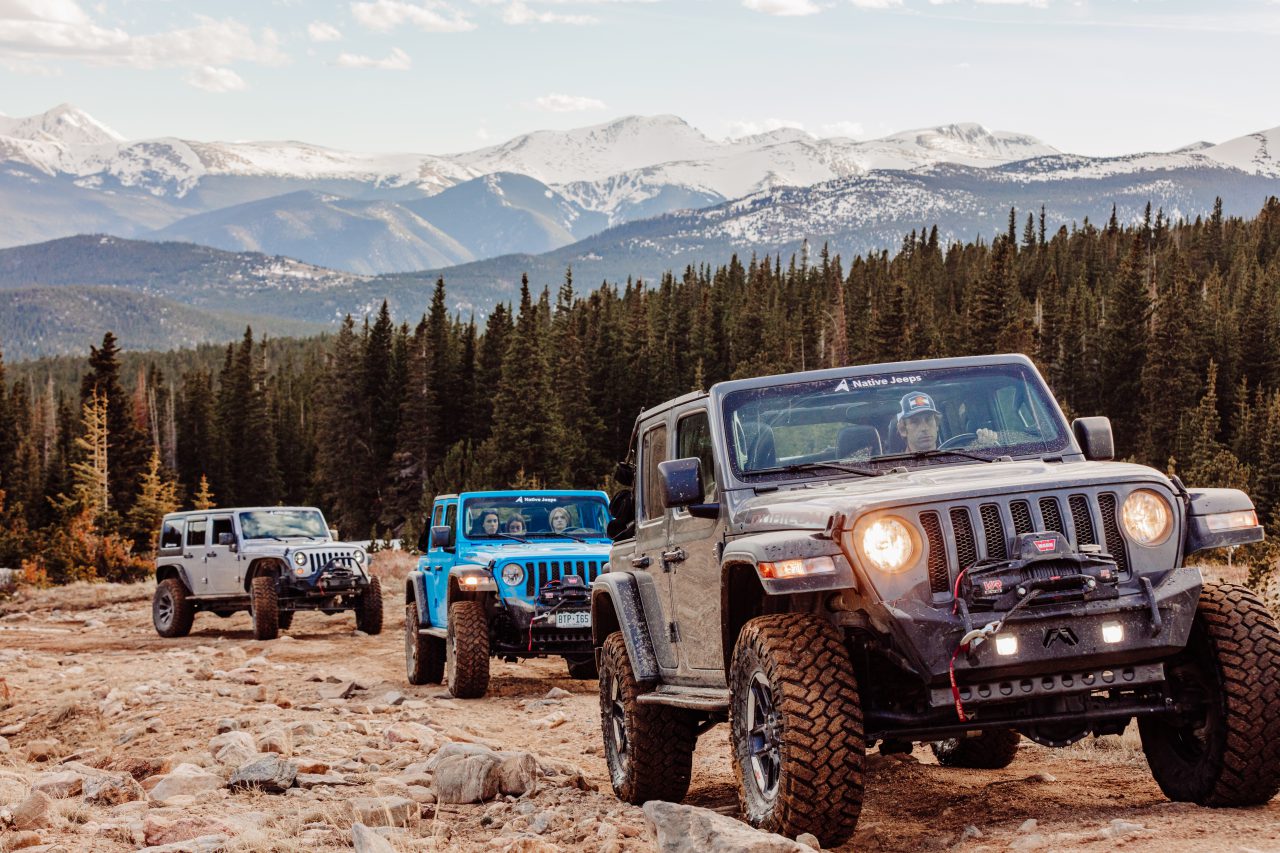 Our Jeeps
At Jeep Tours Colorado by Native Jeeps, our fleet consists of 2020 or newer JL Wrangler Rubicon Unlimited (4-door) and JT Gladiator Rubicon models. We lift each Jeep for a purpose – and spec accordingly.
We run Teraflex lifts, with either 35" or 37" BFG tires. Additional upgrades, depending on the vehicle include beefed-up steering components, rock protection, lights, bumpers, and winch.
Our guides
Our guides are local Coloradans with 20+ years of off-road Jeep experience. We wake up every morning fired up to hit the trails. We love the opportunity to work with the local Forest Service to make sure everyone exploring the back-country is safe, to preserve our resources, and protect against trail or stream damage.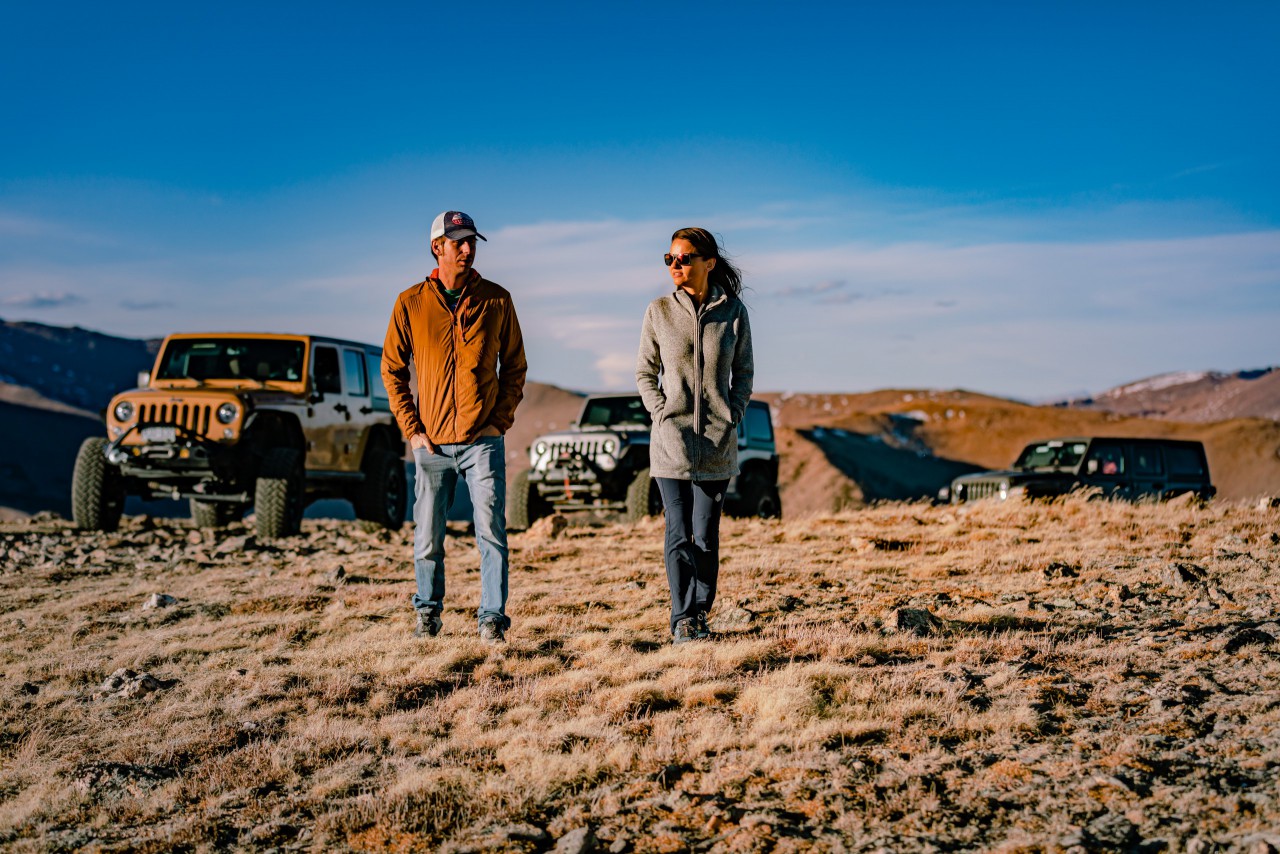 About Clear Creek County
Clear Creek County lays on the eastern slope of the Continental Divide, about 3,000 feet above Denver. Clear Creek famously held the gold flakes which first drew miners to the mountains early in 1859.
The Gold Rush prompted thousands to settle in the county, establishing picturesque towns such as Georgetown and Idaho Springs. The silver mines of Silver Plume created a booming miner's community while Empire was picked for gold.
The county boomed throughout the 1880's, only to mercilessly fall out of economic favor during the Great Depression. In the 1930's the population abandoned the mine shafts, creating the ghost towns found throughout the county.
Today, Clear Creek County holds beloved destinations for Denverites looking for a weekend getaway. It is a mecca for outdoor adventure, famous for whitewater rafting tours, zip line tours, and incredible OTV and 4-wheel trails. There are world class hiking and biking trails. Loveland Ski Area attracts day skiers and Georgetown and Idaho Springs offer no shortage of historical structures, family friendly activities and great local eateries.
Information about historic Clear Creek County is available at Historic Idaho Springs and Historic Georgetown.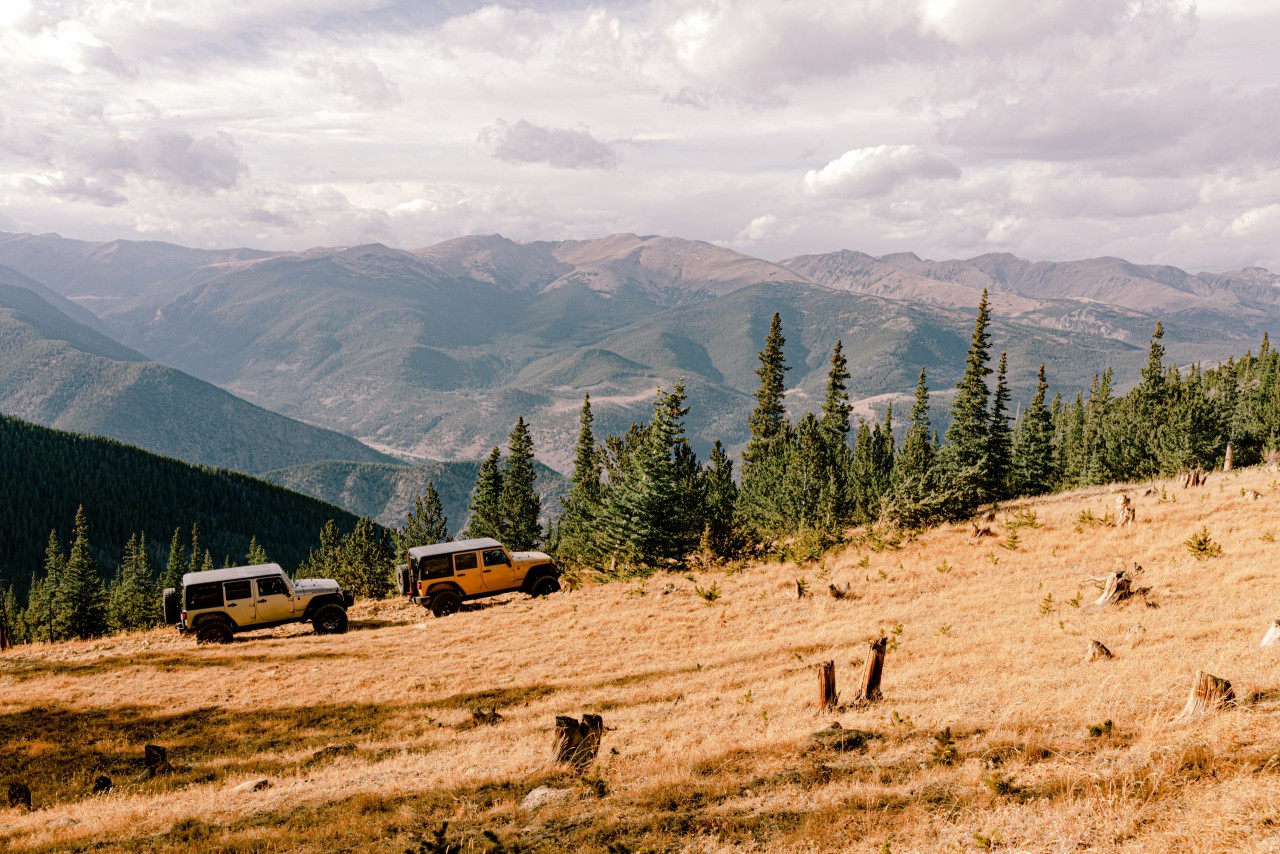 About Vail
Nestled within the breathtaking Eagle County, the Vail area stands as a testament to Colorado's beauty and rich history. Beyond its world-renowned ski slopes that have earned it international acclaim, Vail holds a significant place in military history as a former training ground for the famed 10th Mountain Division during World War II. This alpine training instilled resilience and expertise in soldiers, which later contributed to the development of modern skiing techniques and the growth of the ski industry in the region.
The landscapes of the Vail area are rugged mountains, dense forests, and pristine valleys. The iconic Gore Range provides a dramatic backdrop for the town, while the sparkling waters of the Eagle River wind through the valley, offering a serene contrast to the adrenaline-pumping slopes. As the seasons shift, the Vail area transforms into a haven for outdoor enthusiasts, like hikers and mountain bikers.
With a blend of military heritage, world-class skiing, and awe-inspiring scenery, the Vail area captures the hearts of all.
You can read more about 10th mountain division here.